Extensive inventory of raw material on site.
All our products are made to your specifications.
We stock steel that is melted and manufactured in the USA. When the steel arrives, we color code it for traceability and record the heat numbers. Because there are high carbon, medium carbon and low carbon steels, the color coding eliminates chance for error.
It is your guarantee that we start with the correct raw material to give you the product you require.
Our trademarked material, FABSCOLLOY "55", is our most popular material for our anchor bolts and studs.
ASTM F-1554
ASTM A-36
ASTM A-449
ASTM A-193
ASTM A-354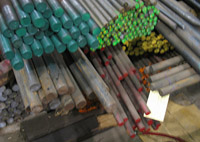 Our roll threading capacity is through 3"diameters. We can cut threads through 6" diameters. Our materials are approved for all Federal and State Highway Projects. Hot dip galvanizing is done to ASTM A-153 & F2329. Electro-zinc plating is done to B-633 & others are available. Mechanical galvanizing is available.